A stunning 4 bedroom period cottage having undergone extensive renovation throughout.
Willy Wilcox Cottage is the listed seafront cottage with the bright blue door and shutters, seen on so many paintings and postcards in both Polperro and Cornwall. Willy Wilcox offers views that are out of this world from every window of the property and has a calm, quirky, cosy interior that we hope will wash your cares away. Whether it's a balmy, sunny day enjoying life outside the cottage, maybe a sundowner on the terrace or seeing a storm brewing outside, knowing that you are toasty and safe inside, we wish all who stay here a magical time.
The cottage has undergone extensive renovations throughout. We have nurtured and updated the property without spoiling the fabric of Willy Wilcox and it has been an absolute pleasure to do. The property benefits from its own car parking space.
The cottage, built in the 17th Century, is one of Polperro's historic landmarks, partially built over a cave and previously belonging to the late 18th Century fisherman, Willy Wilcox. Willy was reputedly involved in smuggling and he was trapped by the sea whilst secreting contraband into the cave below. Rumour has it there used to be a secret passageway leading from the cave to the cottage!
The kitchen/dining room is superbly equipped with everything you may need and has been recently updated with solid slate larder shelving.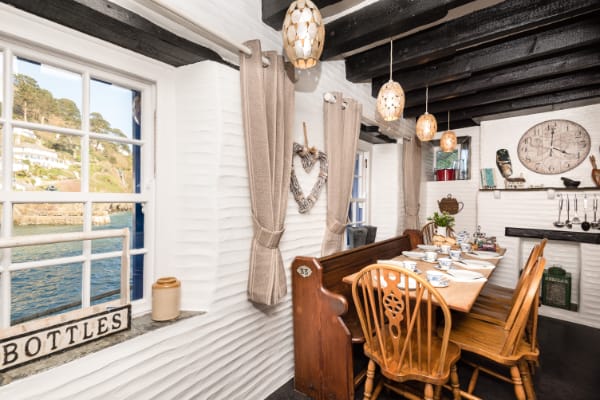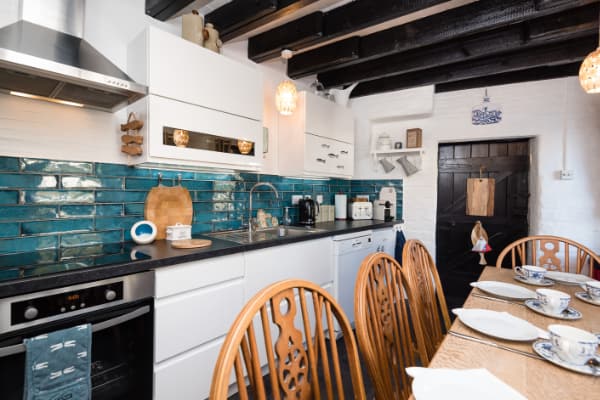 A place to relax & unwind
The original ships timber beamed sitting room has an open fire with a copper canopy and an ancient pickling well for nets. The well and mysterious narrow passage between the cliff face and the cottage are illuminated and visible from the sitting room through a glazed window. The room also boasts a large deep bay window, a perfect vantage point with seating to enjoy the heavenly views. Recently refurbished solid wide oak floorboards compliment the room beautifully.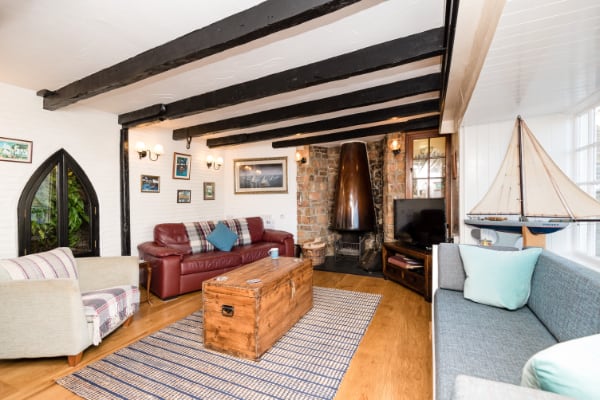 The cottage has four bedrooms, two king and two twin, all have wonderful sea and fishing harbour views, one king bedroom has an en suite and there is a further family bathroom. Three of the bedrooms have vaulted ceilings with the old ships timbers visible.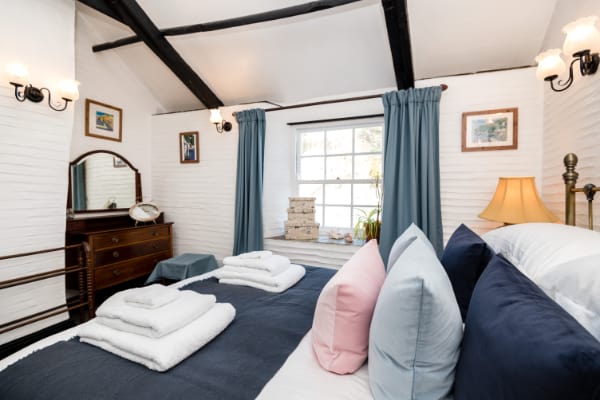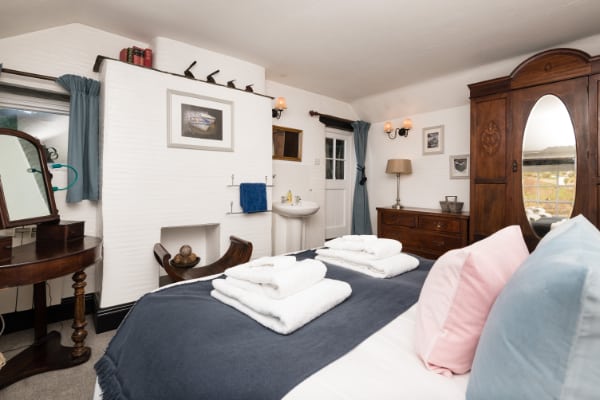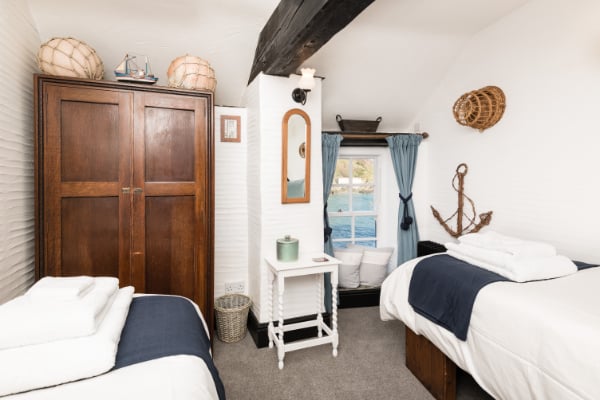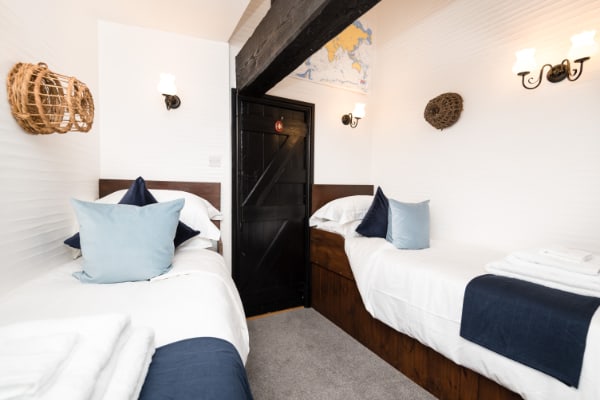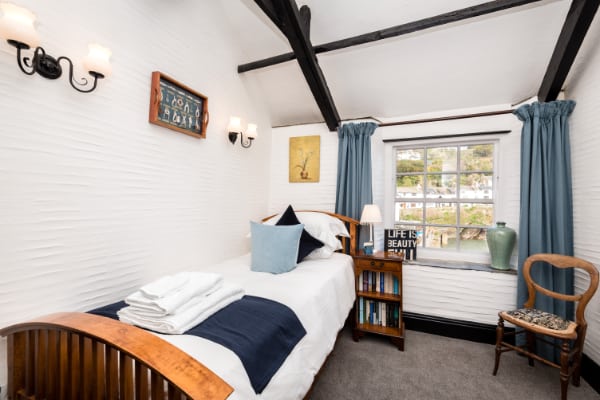 The harbour bedroom has an en suite and there is a further family bathroom.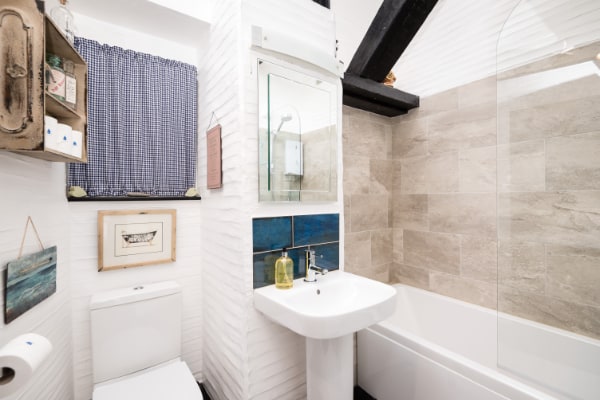 The unique raised beach terrace has stunning far reaching views, a great place for breakfast, a barbeque, a nightcap or anything in between.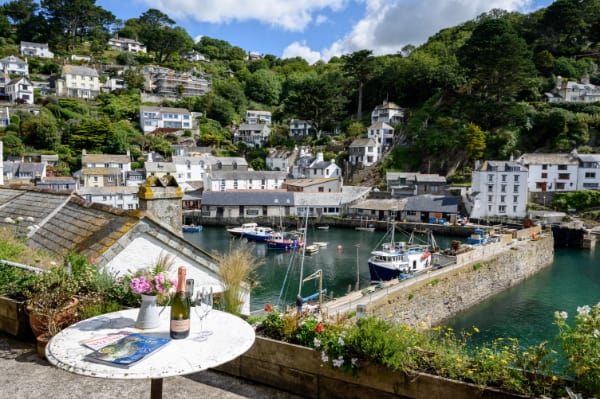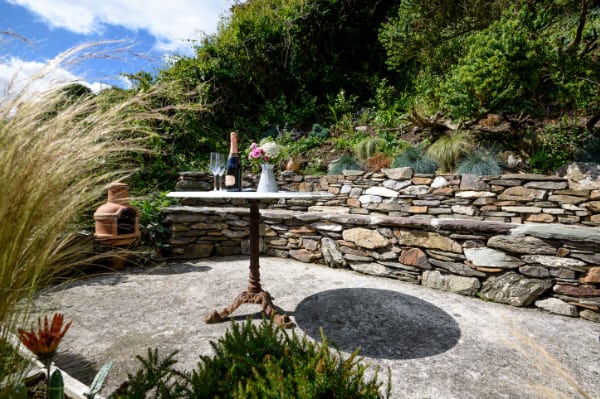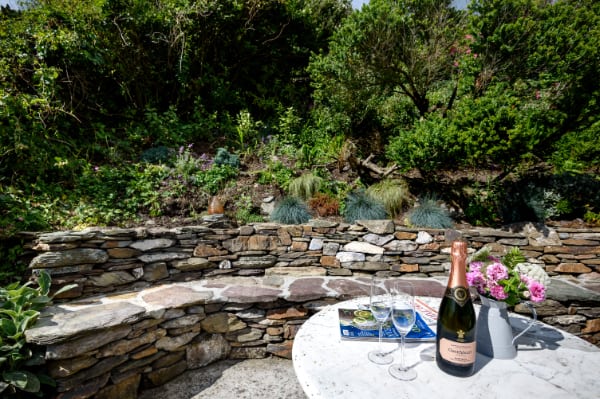 The property benefits from its own car parking space which is a rarity in Polperro and is a delightful 400m flat walk to the cottage, the space is as close a parking space as you can get in the village.
The cottage has a substantial four wheeled trolley for transporting luggage and shopping or alternatively the village run a luggage taxi service should you wish to book that instead.